If you're serious about blogging, you should take the time to look at the blogging stats regularly. Without having a clear insight into the performance of your blog posts, you can't know whether or not there's a need for some adjustments.
However, you should also check the general blogging stats available online, and not just those related to your blog. That way, you'll have a better understanding of how you can improve your writing to address the needs of your target readers correctly.
Read on to explore the essential blogging stats that every blogger should be aware of.
A sneak peek at the world of blogging
How many people read blogs regularly? How much time do they spend reading them? Where are all those people coming from? Which blogging platforms host blogs with the most views? How many bloggers are there exactly?
These are all essential questions that will give you a better look at the blogging audience and your competition. Read on to discover the number of bloggers in the United States, their primary reasons for blogging, and other notable stats.
This statistic shows the number of bloggers in the United States from 2014 to 2020. In 2015, 28.3 million internet users updated a blog at least once per month. The number of bloggers in the United States is set to reach 31.7 million users in 2020.
Why did you start your blog?
There are more than 20 billion blog post views each month on the WordPress platform.
Blogs have been rated as the 5th most trustworthy source for gathering online information.
77% of internet users read blogs regularly. Over 3/4 of internet users regularly read blogs nowadays, covering an untold number of niches and interests.
Internet users in the US spend 3X more time on blogs than they do on email.
71% of WordPress blog posts are written in English language.
These are the top ten languages on the WordPress.com network: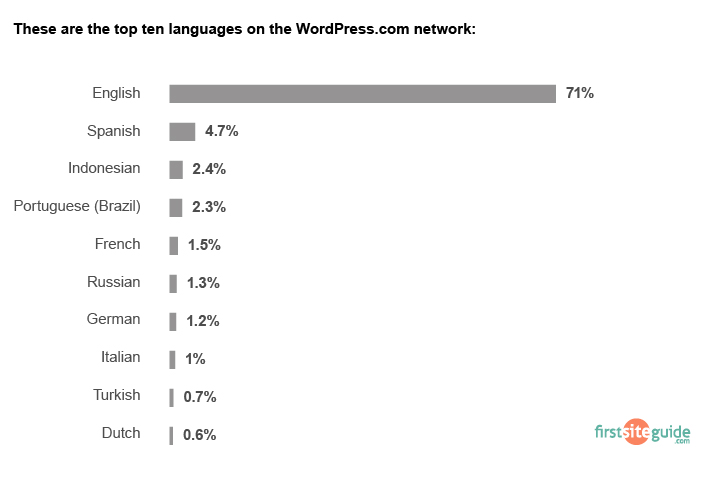 Writing engaging and high-performing blog posts
How long should you make your content to provide your readers with real value but keep them engaged all the way through? Can you get your message across in a short period that people spend reading a blog post? How long should your headlines be to generate higher click-through rates? How often should you blog? When is the best time to publish new blog posts?
These questions are vital for making your blogging efforts pay off, so read on to find out the answers. The following stats will help you better understand how you can write compelling blog posts and attract and retain readers.
The most popular time for reading blogs is between 7am and 10am.
The best blog length for SEO in 2019 is 1,890 words. According to numerous studies over the last 10 years – Google's algorithm prefers more content when going head to head on shorter content posts – helping blog posts with over a 1,000 words do better on average – and driving up the average significantly. At minimum blog posts should have 300+ words, so that they aren't considered 'thin content' on your website.
The ideal reading time for a blog post is 7 minutes. People who are genuinely interested in a topic will stick around if bloggers are able to get their message across in around 7 minutes of their time.
Successful bloggers (earning over $50K per year) said their most popular blog posts were an average of 2,424 words long: 83% longer than the most popular blog posts from lower-income bloggers.
Remember, the longer content gets more shares. Posts in 3,000 to 10,000 words range perform best because they provide a better connection for long-tail keywords.
More than half of the bloggers who go big, report "strong results" from blogging.
The research showed that it took surveyed bloggers 3.5 hours to write a blog post on average. It also showed that bloggers who spent more time writing a post (in excess of 6 hours) self-reported better post performance the more time they invested.
Titles with eight words received a 21% higher click-through rate than the overall average.
Having a hyphen or colon in the headline increased click-through rates by 9%.
The average blogger writes four headlines before selecting one.
How long does it take to write a typical post?
38% percent of the bloggers who spend 6+ hours per article report "strong results" from blogging.
In February 2019, Backlinko published results of its content analysis of 912 million blog posts. The analysis focused on factors such as content format, headlines and post length and how they related to social shares and backlinks.
Bloggers who publish weekly or more are nearly 2.5x more likely to report 'strong results' than bloggers who publish monthly or less. You need to write on average 5.7 articles a week.
60% of bloggers who are posting daily, reported very strong returns.
Companies publishing 16+ blog posts per month secured 4.5 times more leads than those with 4 or fewer posts per month.
Bloggers who publish daily are more likely to report strong results than bloggers who publish several times per day
Bloggers who earn $50K or more per year from their blogs are 5.8 times as likely to publish case studies, 3.2 times as likely to publish original research, and 3.7 times as likely to publish interviews compared to lower-income bloggers.
6% of bloggers edit their own work, while 54% have editors or have at least shown their work to someone else to review.
62.96% of readers perceive blogs with multiple authors to be more credible.
On average, mid-sized companies now have at least 2 full-time employees managing their blog. It's because they know content marketing isn't going anywhere without putting in real effort. And on top of having dedicated employees, the average mid-sized company has a bit more than 10 contractors working on their blog.
Higher-income bloggers pay an average of $347 per article, compared to only $96 per article paid by lower-income bloggers. 82% of lower-income bloggers who pay for content writing pay less than $100 per article, compared to only 23% of higher-income bloggers.
The majority of higher-income bloggers use some form of strategic research to help decide on post topics, while lower-income bloggers do so much less often.
The most commonly used types of content
Deciding on the type of content you will use when creating a blog post can sometimes be overwhelming. For instance, you may prefer writing listicles to how-to guides, but what about roundup posts and infographics? Should you spruce things up a bit with other content types every once in a while?
It all depends on your personal preferences and your readers. But you should explore what types of contents yield the most positive results in terms of traffic so that you can consistently increase it.
Better content gets better results and can drive traffic to a blog by up to 2,000%.
The "how-to" headline is the third most popular headline preference at around 17%.
Make me cry! Emotional headlines get shared more. (hint: speak to their problem, not your solution).
Medium and Tumblr are also great for content. There is nothing wrong with putting content on your blog and then publishing it on Medium and Tumblr a week later.
80% of marketers have images as their most-used content type. Social media is very visual and you need more than just text to stand out. Images are the most popular content type, followed by videos and blog posts.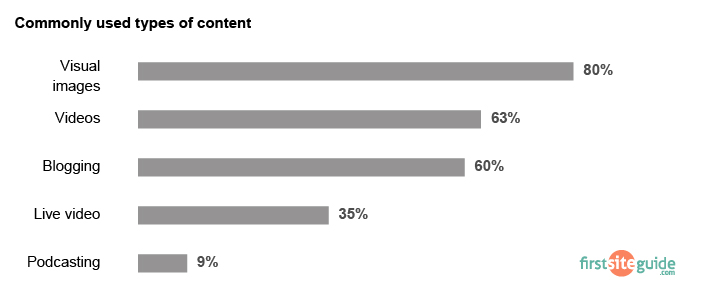 Most bloggers add a few images to their content. But fewer than 10% of bloggers are producing visual content with 7+ images per article. Does that sound high?
Using photos of real people instead of stock photos can result in a 35% conversion increase.
45% of bloggers who add audio to their posts such as podcast see better results.
Driving organic search traffic to blogs

Optimizing your blog for search engines is one of the most critical steps you need to take to increase your organic search traffic and SEO ranking. This starts with keyword research, and extends to implementing engaging images and videos, and updating older blog posts to improve their performance.
But to drive more traffic to your blog, you need to promote your content regularly. Social media is your best bet nowadays, but there are also paid ads, email marketing, SEO promotions, guest blogging, and influencer marketing.
Only 38% of bloggers are updating older articles.
Video content is 50 times more likely to drive organic search traffic than plain text.
Long tail keywords: 50% of the search queries are four words or longer.
Organic SEO results are about 6 times better than paid search ads.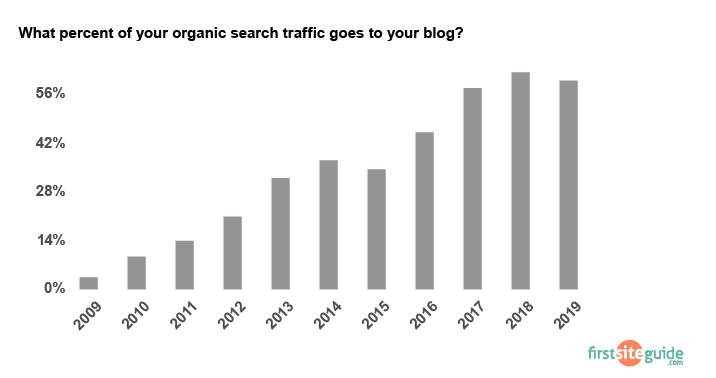 As SEO has grown in popularity and importance, keyword research as a skill and practice has become more common. Most bloggers do it sometimes. Half of all bloggers do it most of the time.
Virtually all bloggers share their content on social media. Two-thirds use search and email, both of which have become much more popular over the last five years.
Social media for traffic: 97% say that social media helps them boost their exposure.
The most common objectives for paid methods are to attract a new audience (80%), generate traffic when organic search isn't producing the desired results (65%) and reach a niche audience (52%).
59.8% of bloggers guest-post at least occasionally.
Benefits and common reasons for blogging

Why did you start blogging? What is it that motivates you to craft content for the like-minded people interested in the same topics you cover? Is the main reason of monetary nature, or do you find joy in helping people learn something new or solve their main pain points? Do you perhaps blog for business and want to establish yourself as an expert in your field?
Take a look at the benefits that motivate most people to blog and how they monetize their blogs.
Companies who blog receive 97% more links to their website.
Making money is the most common reason people blog, followed by interest in the topic.
57% of the respondents in HubSpot's State of Inbound Marketing study reported that they have acquired a customer through their company blog.
55% of marketers say blogging is their #1 most important inbound marketing channel.
Blogging businesses experience 126% higher lead growth than non-blogging businesses.
61% of US online consumers have made a purchase after reading a blog that recommended it.
80% of bloggers surveyed report that their blog delivers positive or strong business results.
Consumers use blogs to make buying decisions: 47% of buyers view 3-5 blog posts or other pieces of content before starting the buying process.
Internet users in the U.S. spend 3X more time on blogs than they do on email.
How Do Bloggers Make Money? Bloggers who earn over $50,000 per year from their blogs are 5.6 times as likely to sell their own product or service as bloggers who earn less.
Conclusion
Blogging can be one of the most rewarding endeavors, both emotionally and financially. However, you need to do it right if you are to experience all its benefits and make your every effort pay off. These blogging stats will help you get a bigger picture of it all and set sails for a successful blogging adventure.
Sources:
www.statista.com/statistics/187267/number-of-bloggers-in-usa
https://99firms.com/blog/blogging-statistics/#gref
www.optinmonster.com/blogging-statistics
www.wordpress.com/activity
www.neilpatel.com/blog/content-marketing-future
www.growthbadger.com/blog-statistics
www.quoracreative.com/article/blogging-statistics-and-trends
www.orbitmedia.com/blog/blogging-statistics
www.seotribunal.com/blog/blogging-statistics
www.convertkit.com/reports/blogging/motivation
www.socialmediaexaminer.com/6-tips-for-writing-headlines-that-drive-traffic
www.sidegains.com/content/how-long-to-write-post
www.blog.hubspot.com/marketing/business-blogging-in-2015
www.isitwp.com/amazing-blogging-stats-facts
www.socialmediaexaminer.com/report
www.yourblogworks.com/57-remarkable-blogging-facts-statistics-and-insights-for-2019